Dine in Style at the Best Restaurant in Dubai
OPENING HOURS
Every Day 8 AM – 11PM
Growing up around our mother Lallumma, our culinary experience was always different and unique. With influences from Mysore to Wayanad, & Mahe to Kozhikode, Lallumma's dishes were always cooked with precision and passion. Today, we are tying to recreate the same tastes that our mother nourished our hearts and souls with and bring it to the people of UAE.
In total 650m² of hand-crafted decor, mix of styles and colors.
You might be a traveller, Vlogger or sometimes here for visit and want to experience an Indian Restaurant in Karama. Certainly, you made the right choice of choosing Lallummas, as its a heaven for your taste buds. Homely experience now in Dubai with good food, as you can pick some homely food from here. Being the best place to try homely food in Dubai added with love. Truly a great place to experience the delicious wide variety of dishes that are good for your health.
To make everyone entering the establishment feel at home and find their atmosphere.
Take refuge in our exclusive haven of greenery and away from the crowds. Live music and performances every Friday night!
Experience the Best Homely food in Dubai
We have a beautiful Restaurant in Qusais and there also, you can experience Home made food delivery Dubai. If you are looking for the #1 Kerala Restaurant in Qusais, just take your google map and route to our restaurant. With wide varieties of dishes are served in our restaurant in Dubai everyday with no preservatives. If you want to try some Biriyani or need to enjoy a delicious breakfast. Just reach to our restaurant to experience good food and some lovely experience.
Discover Our Elegant Party Hall
Welcome to Lallummas Restaurant's elegant and versatile party hall, where memorable celebrations come to life. Whether you're planning an intimate gathering or a grand soirée, our party hall is the perfect setting for all your special occasions.
Our Party Hall Features:
1. Spacious Elegance: Our party hall boasts an expansive and stylish interior that can accommodate gatherings of various sizes. From intimate family celebrations to large corporate events, we have the space to make your event a success.
2. State-of-the-Art Amenities: Equipped with modern amenities, our party hall is designed to meet all your event needs. We offer audiovisual equipment, flexible seating arrangements, and customizable lighting to create the ambiance you desire.
3. Culinary Excellence: At Lallummas, we believe that great food is at the heart of every celebration. Our talented culinary team will craft a delectable menu tailored to your preferences, ensuring your guests enjoy a gastronomic experience they won't forget.
4. Impeccable Service: Our dedicated staff is committed to providing impeccable service, from planning to execution. We'll work closely with you to ensure every detail is perfect, so you can relax and enjoy your event.
5. Aesthetic Decor: Our party hall's neutral color palette and modern design provide the perfect canvas for you to add your personal touches. Whether you prefer a classic look or a more contemporary style, our space can be transformed to match your vision.
Get the 100% authentic homemade food.

Originally prepared as a feast for the Malabar groom & his family, our generously laid out buffet is perfect for a leisurely weekend. Just like at home.
Nostalgic home-style curry
Chicken pan fried in a skillet with a special jalapenos masala
Black coffee made with jaggery and authentic wayanadan arabica coffee beans
Try our delicious Lallummas dum biriyani, made with authentic basmati rice and your choice of chicken or mutton.
Lightly spiced prawn incorporated into a coconut cream milk curry
Whole Hamour Fish cooked with Kanthari Chilli wrapped in a Banana leaf
Mutton with pepper and semi masala
Introducing our extraordinary Signature Menu, meticulously curated to showcase the culinary prowess of Lallumma's. Each dish in this exquisite selection is a masterpiece, created with the utmost care and attention to detail
Meet Arzoo. As the only daughter, she grew up watching Lallumma create masterpieces in the kitchen from a very early age. She also quickly became the official taste tester of the house, acquiring a fine taste for food. Using the techniques she learnt from Lallumma and combining it with her experiments in the kitchen, Arzoo as the head chef of Lallumma's brings people the best recipes she knows.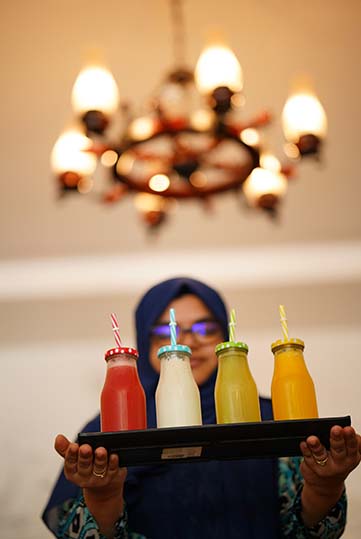 Went here for the national day special offer and found it to be excellent food. Such homely taste! No complaints at all. The interiors are well done, and staff is extremely polite and nice. Will definitely be back for more.
Real home made taste. Under owner/chef's direction . She comes to each table for feedback . Felt every handful of food tasty and delicious. They kept the promise as the name says "home cuisine"
Exceptionally good quality food from North Kerala. Today while searching for some nice restaurants for lunch, bumped into this one near qusais, truly a hidden gem, quantity and quality was worth for the price.
Explore franchise opportunities with Lallummas. Join us in creating culinary excellence and enjoy the benefits of our established brand. Start your own thriving restaurant with our proven business model.
Call us directly on the number provided and we will be happy to assist you with your reservation over the phone. We look forward to welcoming you soon!
At Lallummas, we strive to provide exceptional dining experiences for our valued customers. Your feedback is incredibly important to us as it helps us continuously improve and exceed your expectations. We invite you to share your thoughts and suggestions through our feedback form below. We genuinely appreciate your time and input.